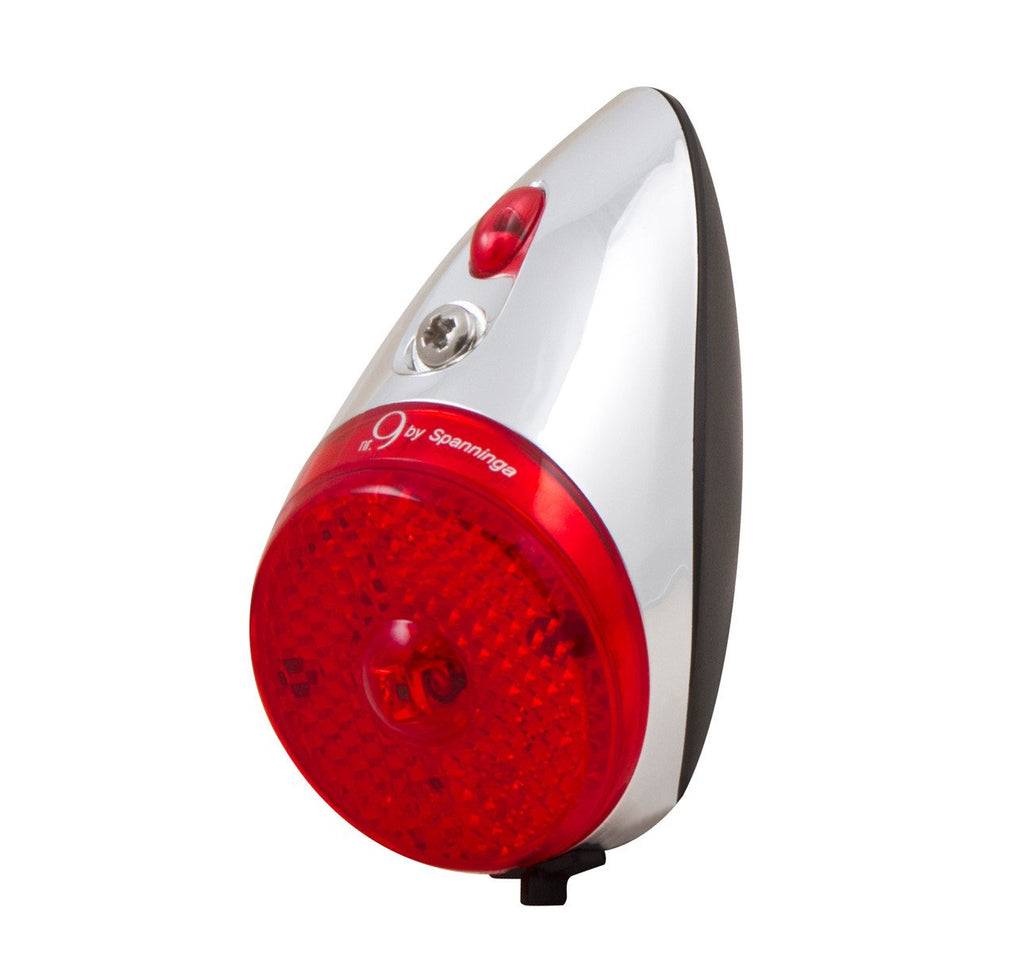 SPANNINGA
NR 9 XB REAR LIGHT - BATTERY - FENDER MOUNT
Item: 4475008
A modern remake of the metal teardrop tail lights made popular in the 50's and which have been Spanninga's flagship for decades, the Nr. 9 tail light comes with retro styling and 21st century reliability! Honoring the past with its chrome finish and tear-drop line, the Nr. 9 will surely please all the nostalgic cyclists of retro chic bike lovers. Simple, stylish and built for comfort and practicality, the Nr. 9 is the tail light to suit any vintage ride. Blending classic character with just the right accent of modern style, the Nr. 9 features the best of updated LED technologies, offering great visibility for the cyclist and safety for other road users. Using 2 AAA batteries, the Nr. 9 has a great lifetime and its low-battery-indicator on the top warns you when the batteries are empty.
Light source: 1 red LED > 5 Cd
Power source: Batteries 2 x AAA 1.5V
Autonomy: > 120h
Battery Load Indicator: Yes
Functions: On / Off
Weight: <50g
SPANNINGA COMPANY HISTORY: While most lighting enthusiasts in North America know companies like German companies like Busch and Muller, (or if they're real aficionados: Supernova and Schmidt) the dominant lighting company in Europe is Holland's own Spanninga. And, that shouldn't be surprising, because most city bikes come from Holland. While the North American bike industry continues to try selling our customers USB lights with more and more lumens, they haven't yet focussed on the biggest issue: theft. To our customers it doesn't seem to make much sense to spend a ton of money on lights that may be bright, but also get stolen the minute you forget to take them off. Spanninga makes great looking dynamo or battery (no trendy USB's) lights that are just as bright as any other company, but best of all they bolt to your bike (and well priced). Another great product that we import from Holland.